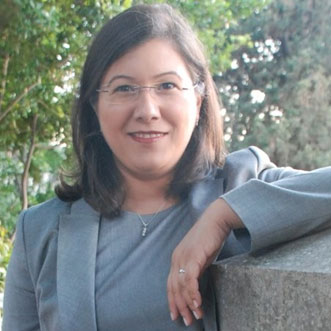 Gamze Taşpolat Altınyay
Just after completing my B.A. in International Relations at Istanbul Bilgi University, I unexpectedly found myself in the middle of 2002 economic crisis. 
As a new graduate, it seemed like beginning of the end; but I was determined and after six months of graduation, I could hardly find a vacant academic position at a private university. There, I was planning to work as an assistant and start my master's degree at the same time.
The day I met Mr. Emre GÖNEN, Head of Department of M.A. in European Studies, I was running at the corridors of my school once again, to get my reference letters for my new job and M.S. program. Although I had no idea about it then, it was the moment that completely changed my vision, my career path and my business life.
Now I am proud to say that I am one of the first graduates of the M.A. European Studies Program who is specialized in providing advisory services to corporate and public bodies in the EU, Turkey & US. I work very closely with the EU institutions, non-governmental trade organizations and I am actively lobbying at several international platforms.
I regard European Studies Program as a unique and an excellent boutique education opportunity leading to greater business success that also has certain offerings designed for personal and professional growth. It consists of different modules by which, I for example, had the privilege to get some courses in Brussels and in the Netherlands, as well as holding a Certificate from the University of Leiden.
I can say that in this Program, you are not only educated but also transformed, inspired, offered an executive education and an enriched personal life. When I look back, I can say that I am more than happy to go far from the usual trend of day: "holding an MBA degree".
Gamze TAŞPOLAT ALTINYAY
Secretary General- AIMSAD Wood Working machinery Industrialists' Association
M.A. in European Studies, 2003 Graduate
Istanbul Bilgi University